ANNE MARIE JAVOUHEY Foundress of Sisters of St. Joseph of Cluny
The glory of God was the consuming desire of Anne Marie Javouhey, the Foundress of Sisters of St. Joseph of Cluny. It was her loving response to God who had chosen, prepared and sent her to live the Gospel and make known His Will throughout the world.

"May God be glorified in all things and everywhere"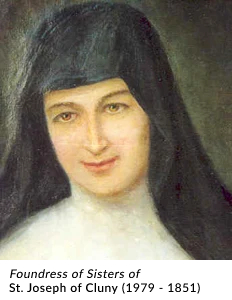 Anne Marie Javouhey's life's work revealed that she had a very clear vision of all people as children of God. She believed that all are fundamentally equal and they have the right to human and spiritual formation. She understood that education consists in helping persons "to be more". Anne Marie's daughters, the Sisters of St. Joseph of Cluny are imbued with the same Charism of their foundress - helping the women and children to grow, to improve and "to be more" in every field, human, social, educational and medical. Thus her wonderful story continues here through the sisters and through the staff and pupils of Cluny Women's College, Kalimpong.